Heart eyes for heartleaf skullcap and more
May 26, 2021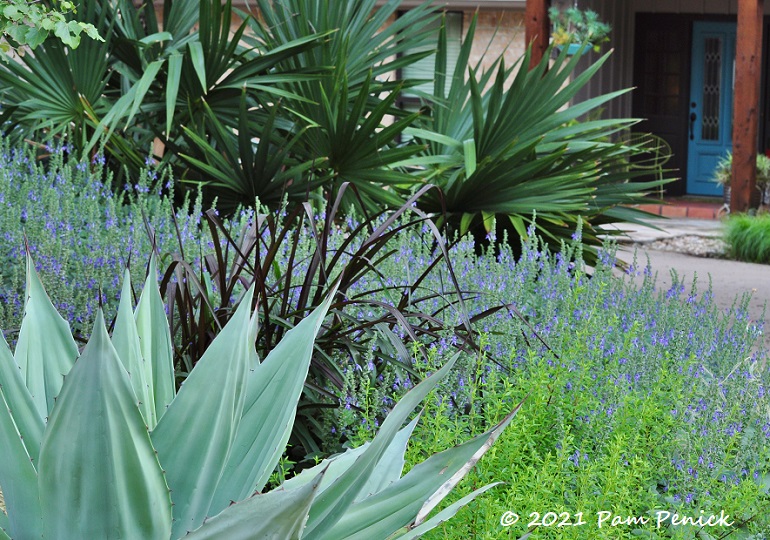 A blue haze has settled over the driveway-island bed, the silvery blue flowers of heartleaf skullcap (Scutellaria ovata). I find myself stopping to admire them every time I step outside.
It fills in nicely around a 'Vanzie' whale's tongue agave (Agave ovatifolia), 'Vertigo' pennisetum grass, Mexican oregano (Poliomintha longiflora), and Texas dwarf palmetto (Sabal minor), all of which grow in bright shade.
Tweezers come in handy for a lot of things, usually used at home for splinters or hairs, tweezers can be used in all areas of you home. This is a big 10in long tweezer that can be used for gripping and holding things in place without getting your hands to close (think open flame) or to reach items that may have fallen behind other items.  Buy Long Tweezers Stainless Steel with Straight Precision For Around the House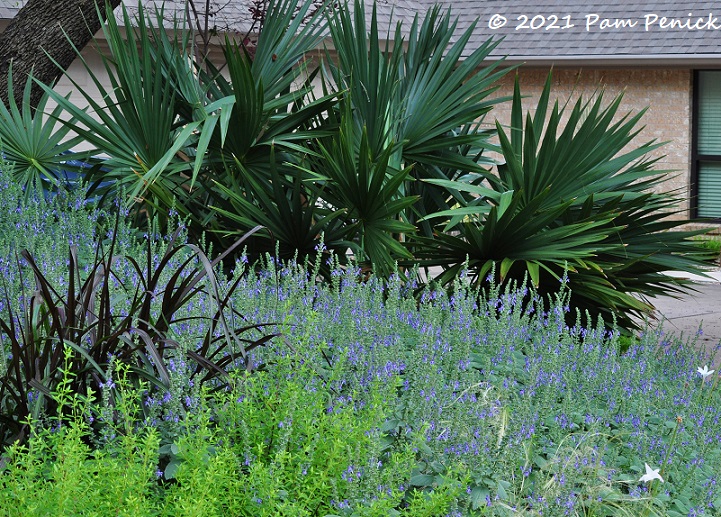 A sprinkling of native white rain lilies (Cooperia pedunculata) popped up after the rain, adding their fragrant, starry blossoms to the scene. When the flowers fade and black seeds appear in the dried capsule, I flick them up onto the bermed bed to make more.
Heartleaf skullcap looks especially pretty paired with fresh green-and-white stripes — in this case, a variegated miscanthus grass. 'Sparkler' sedge and variegated flax lily also work well.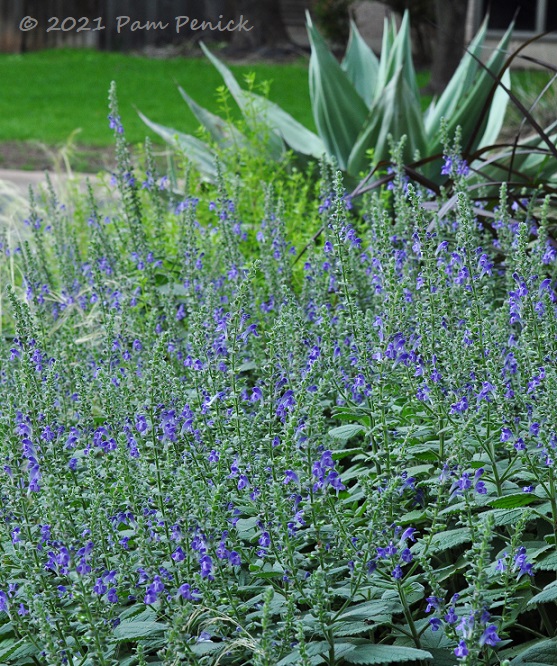 Heartleaf skullcap sticks around from winter (as a pretty, blue-green groundcover) through May, and then it goes dormant for summer. Smart plant. Turk's cap fills most of the gap in summer.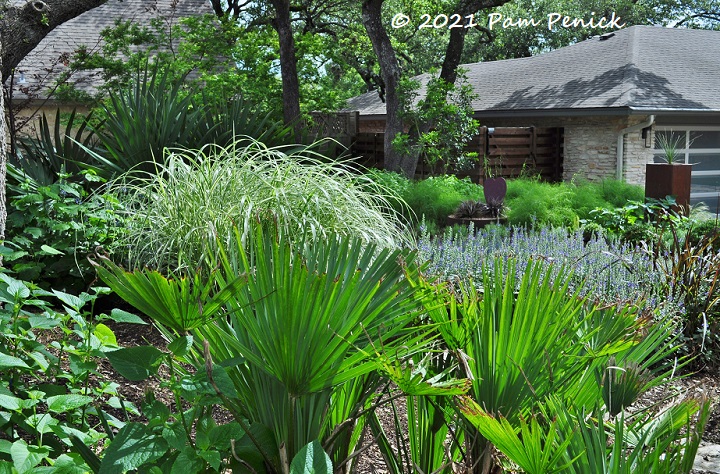 After taking a hit in the February freeze, the garden is now growing like mad. No doubt a late-winter application of compost — something I don't do often enough — is helping. Even the silver Mediterranean fan palm (Chamaerops humilis var. argentea), a plant I wasn't sure would survive, is stretching higher with new fringy fronds.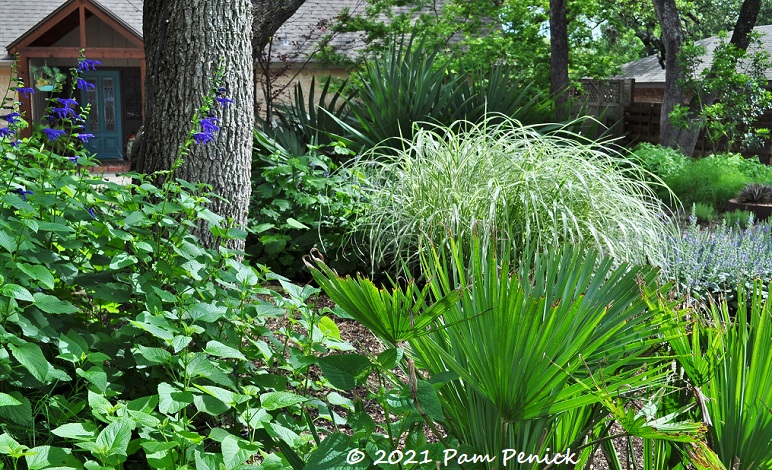 Salvia guaranitica adds cobalt flower spikes to the mix.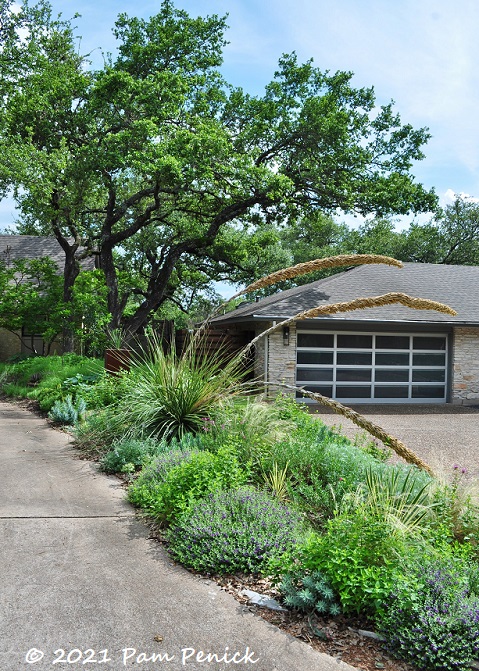 The Texas sotol (Dasylirion texana) bloom spikes flopped waaaaay over during the recent heavy rains. I cut off the lowest one this morning, as it was laying in the neighbors' driveway. The other two are trying to stand back up. The bees loved them when they first opened, but there's less action now.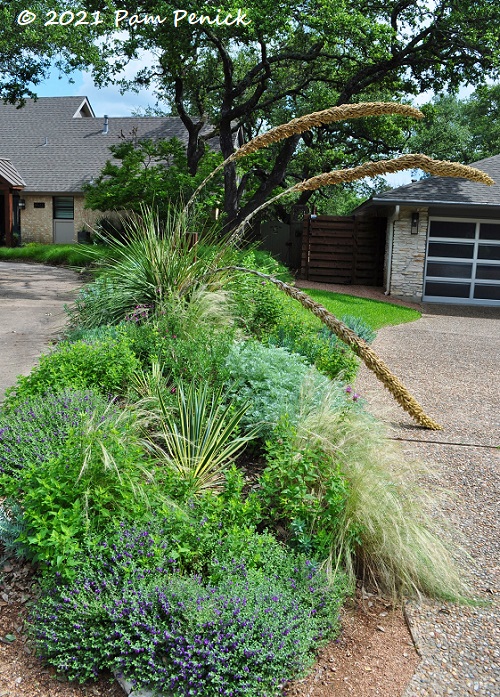 Purple skullcap's tidy mound of foliage (Scutellaria wrightii) sprinkled with violet flowers looks great and stands up to innumerable dogs lifting their legs on it. Soon 'Peter's Purple' monarda will be blooming here too.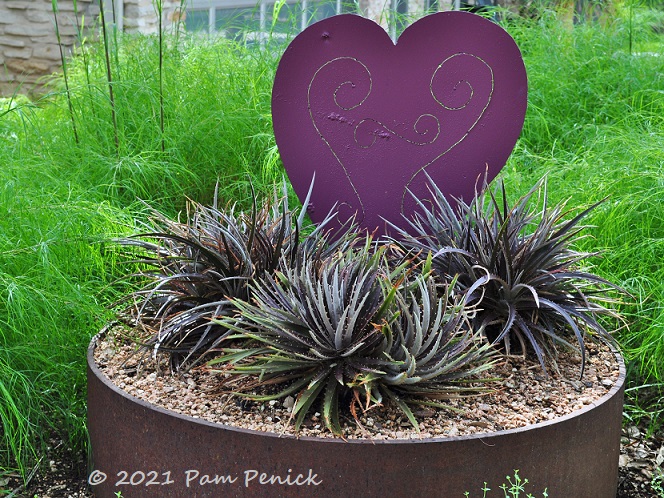 Bamboo muhly (Muhlenbergia dumosa), the bright-green grass in the background, is coming back strong from its roots. A lethally spiky trio of replanted 'Burgundy Ice' dyckia occupies a steel-pipe throne.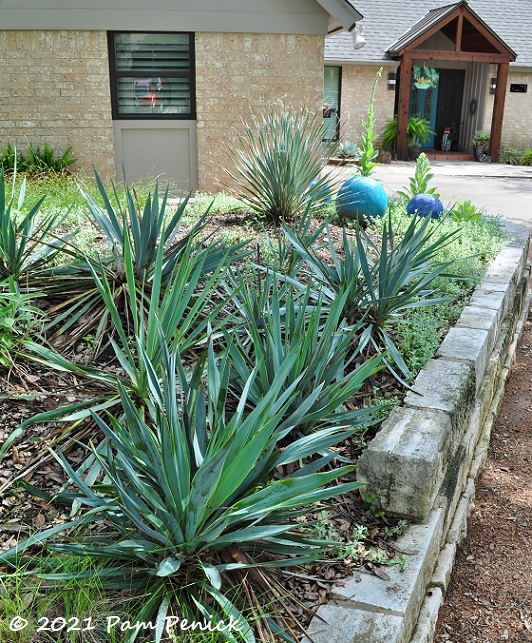 On the other side of the driveway, this space is now officially a turquoise garden. A grid of paleleaf yuccas (Y. pallida) coexist with a new powder-blue wheeler's sotol (Dasylirion wheeleri), which replaced a freeze-melted 'Green Goblet' agave. Filling back in as a groundcover is woolly stemodia (Stemodia lanata). Ceramic balls in shades of blue lead the eye to the turquoise front door.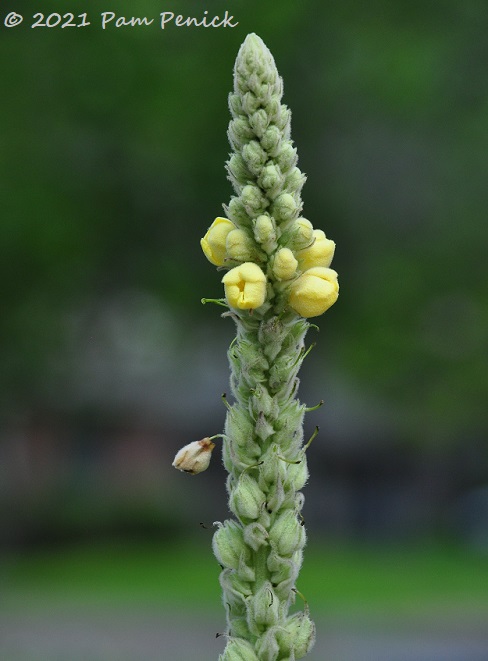 Mullein passalongs (Verbascum spp.) from my friend Jenny at Rock Rose blog have started blooming.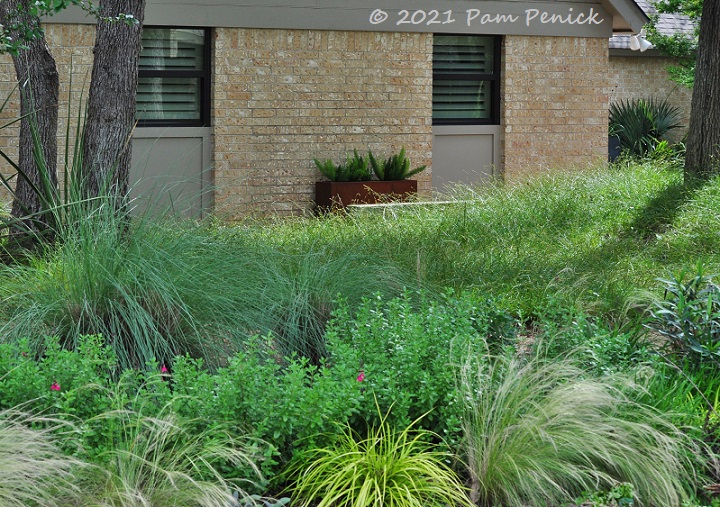 And oh boy!, so has the Berkeley sedge (Carex divulsa) lawnette. It's taller than ever and sparkling with seedheads in the background of this photo. I confess it started looking weedy even to me. So I got out the battery-operated mower and made a couple of passes over it this week. It's my once-a-year mow. Actually it's pretty satisfying to turn the meadowy sedge into a mown lawn (but not for heavy foot traffic).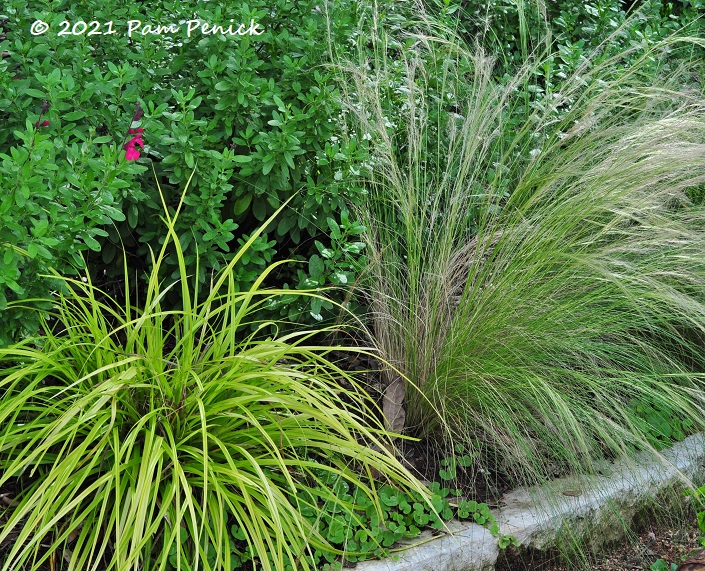 I don't know what's going on here. An experiment, I guess! I had a few extra 'Everillo' sedges before the big freeze and plunked them into the curbside strip for a bit of winter color. And now Mexican feathergrass has popped up next to them, creating a strange forest-meets-grasslands look. Well, that's OK. I'm playing with 'Everillo' to see how much Texas sun and dry soil it can tolerate. So far it's been much more adaptable than I expected for such a Pacific Northwest-looking plant.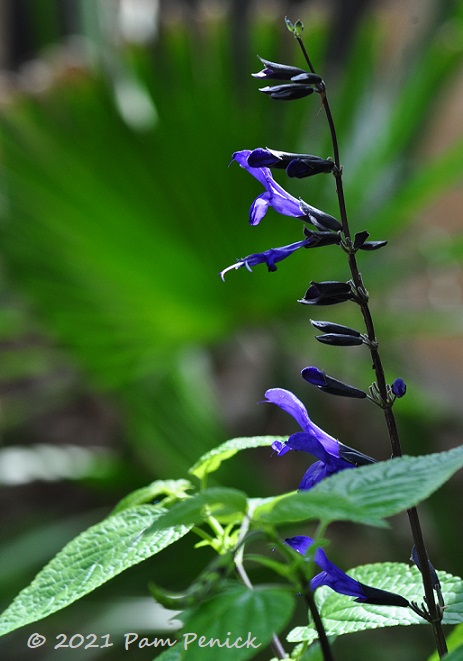 Salvia guaranitica, probably the 'Black and Blue' cultivar, looks so pretty in the shady garden.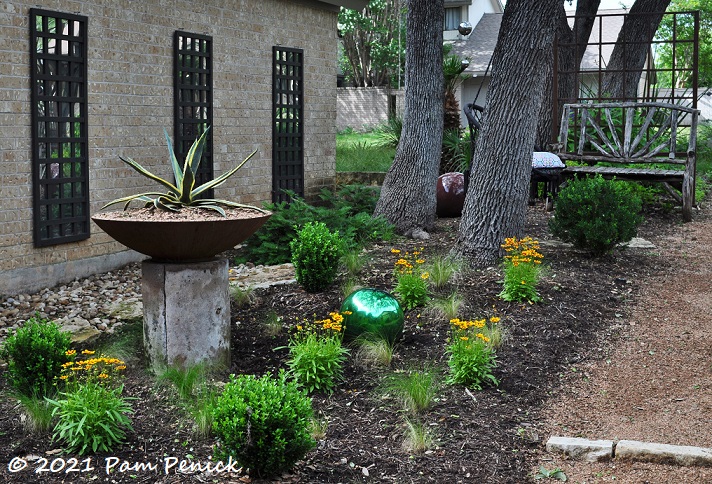 The side garden is blooming nicely now that deer are leaving the UpTick coreopsis alone. Credit deer repellant for that. Which reminds me, I should go spray again after all the rain.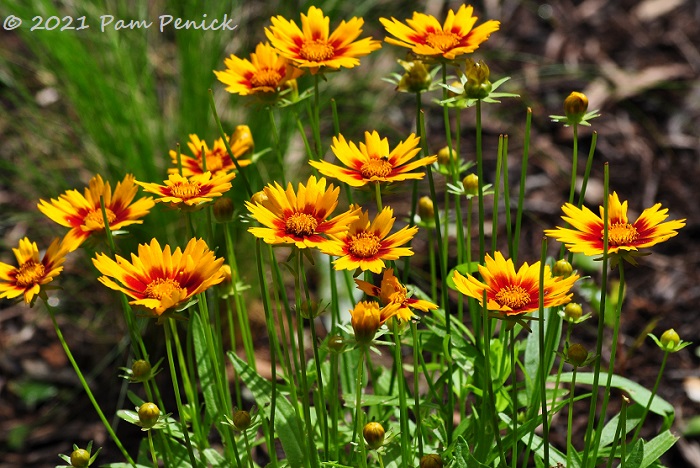 Coreopsis x 'Baluptgonz' is the official name, but more familiarly it's UpTick Gold & Bronze coreopsis. I got it at one of the big-box stores earlier this spring.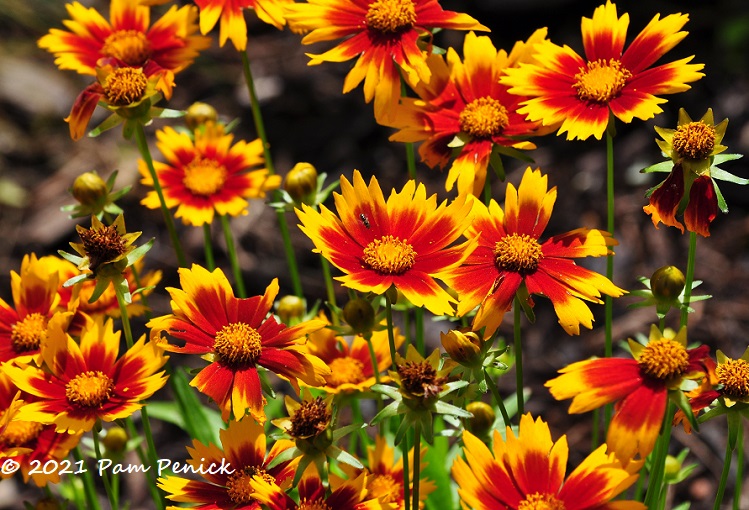 Blazing saddles!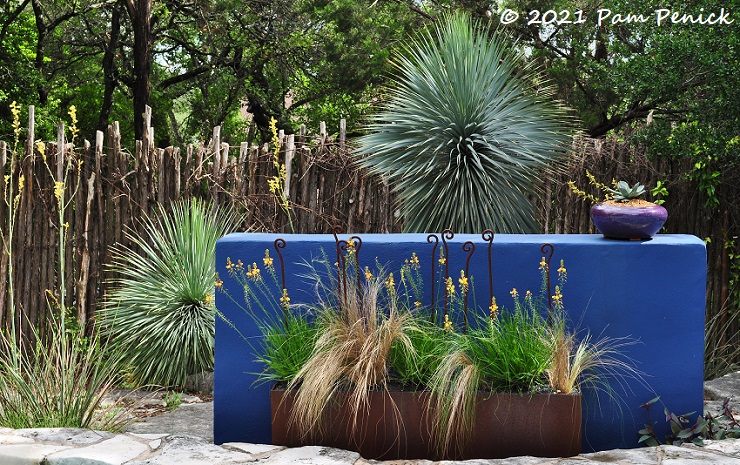 In the back garden, bulbine (replaced after the freeze) is pumping out orange-and-yellow bloom spikes. I guess I should have replaced the feathergrass too, which has a little green on it but is mostly brown. Or, I don't know, maybe the tawny stems work with the orange flowers. Yellow-flowering red yucca (Hesperaloe parviflora) stands tall at left, but the two Yucca rostrata in back own this stage.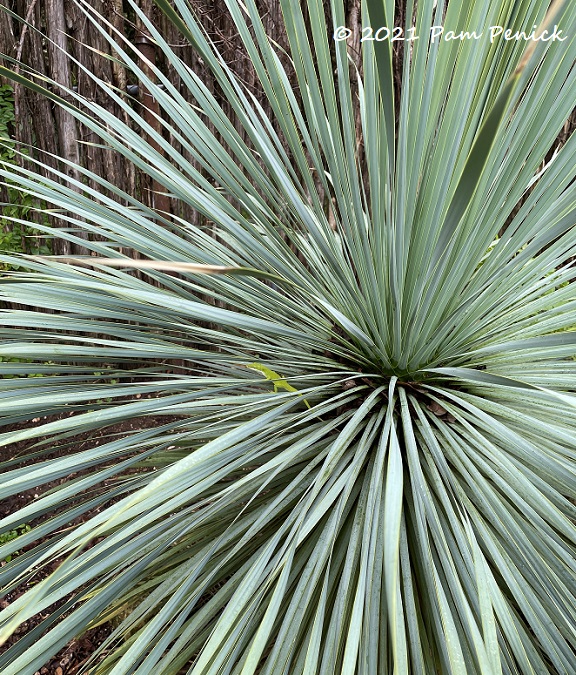 I spotted this little guy hanging out in the strappy yucca leaves yesterday.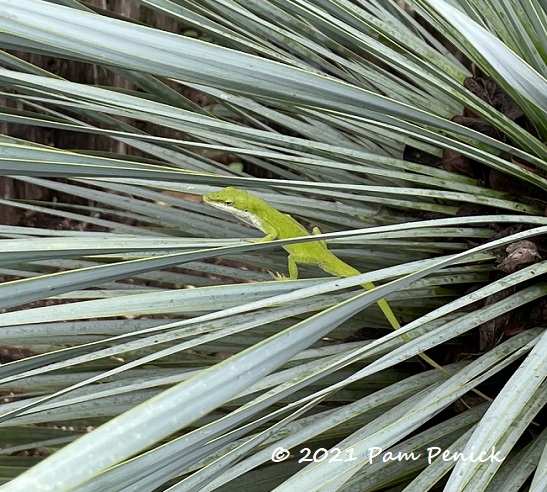 A green anole — so cute!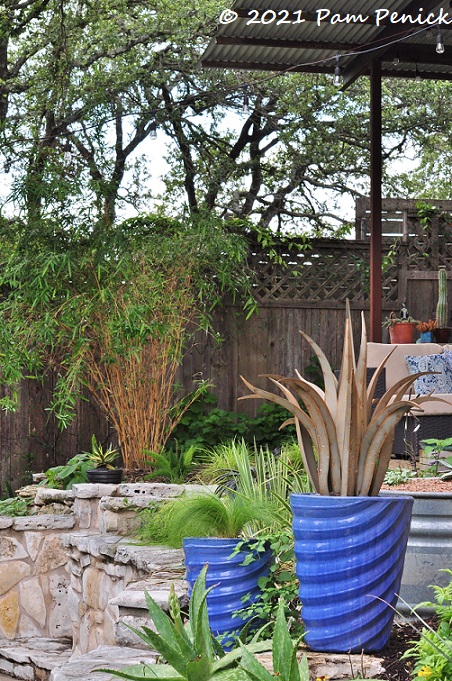 I've changed up the raised beds a bit since the freeze. 'Alphonse Karr' clumping bamboo grows where a whale's tongue agave (including Moby) had always stood. A freeze-killed 'Sparkler' sedge in the big blue pot made way for a metal — aka unkillable — agave. Take that, Next Arctic Blast!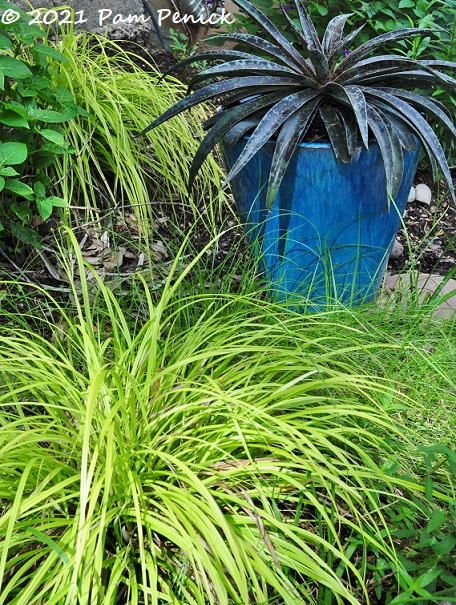 But of course I still grow freeze-tender plants. As long-season annuals, tender mangaves like this new 'Moonglow' make great focal points. (In a mild winter it might survive.) Its dark, speckled coloring does remind me of moonlight dappling a nighttime garden. 'Everillo' sedge adds a splash of sunlight.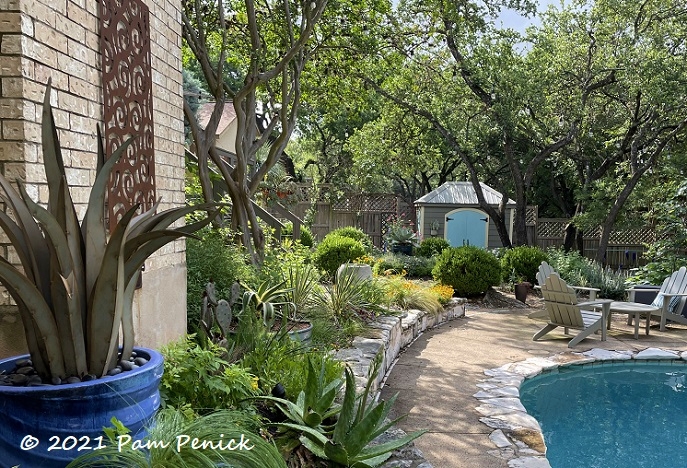 Looking the other way toward the shed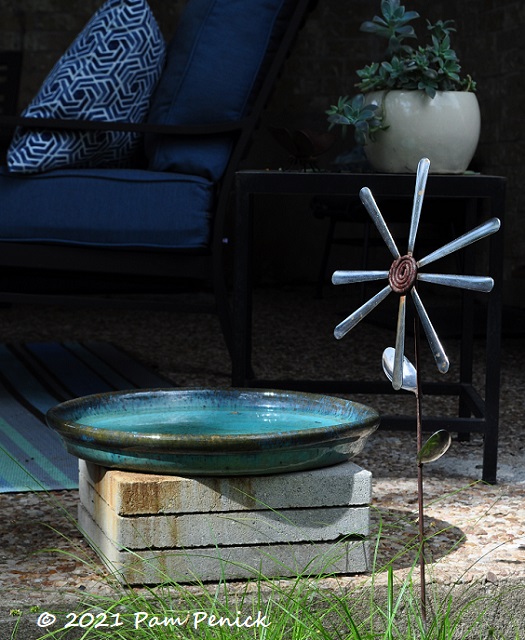 A ceramic saucer filled with water makes a simple birdbath, an idea I stole from my friend Cat's garden. A flower of recycled knives and spoons blooms next to it.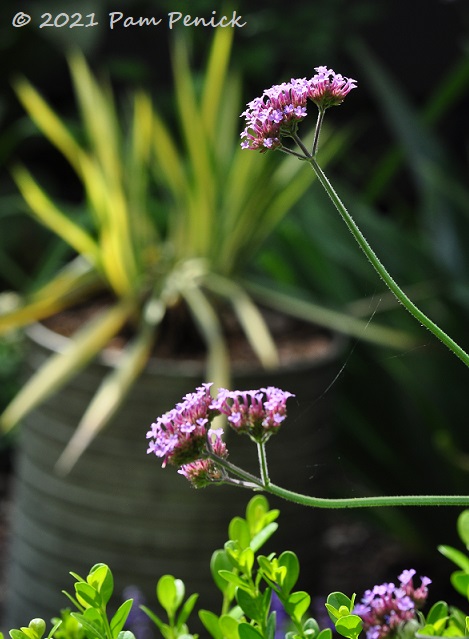 Volunteer seedlings of tall verbena (Verbena bonariensis) flower next to yellow-striped yuccas.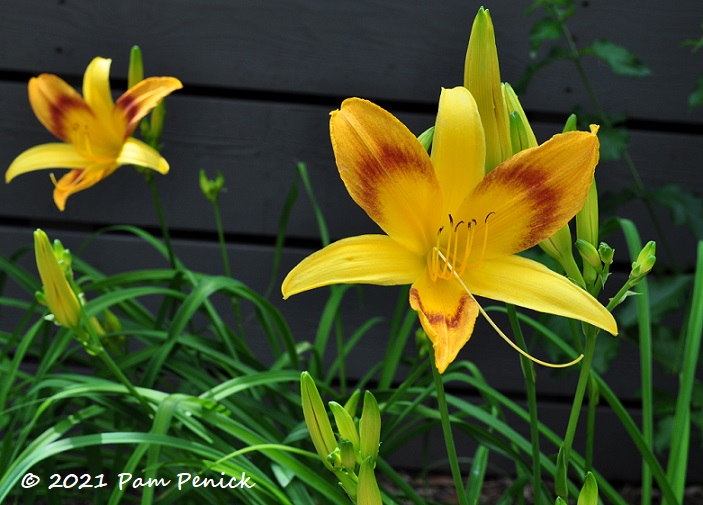 The daylilies are blooming too. This is 'Wilson's Yellow', which I've had for 15 or 20 years and brought over from my last garden.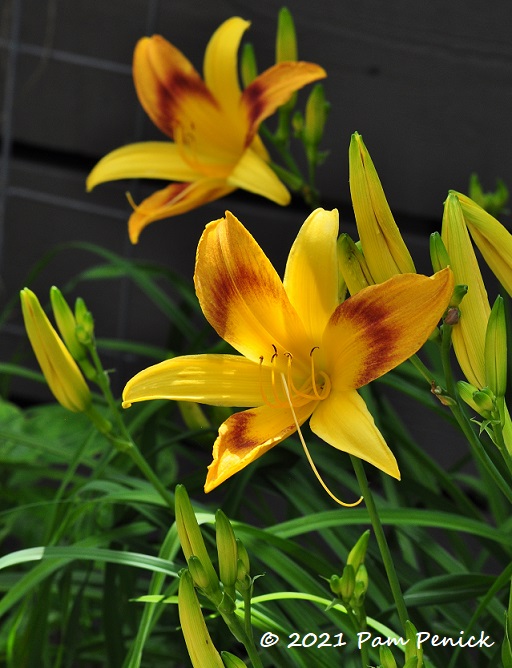 It pops against the dark-gray stain on the deck skirting.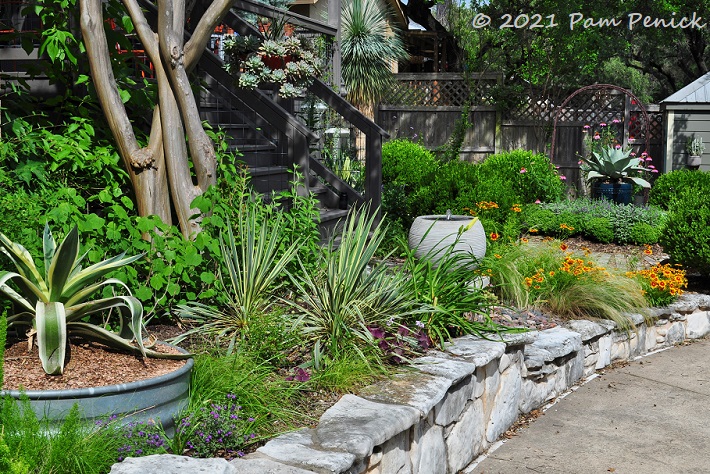 Where a squid agave froze, in the low stock tank at left, a striped 'Espresso' mangave now grows. I uprooted this big specimen from a shady spot when the patio roof was going up, protected it in the house during the epic freeze, and now am trying it in a good deal of sun. It seems pretty happy. By July I'll know for sure. It came from a pup given to me years ago by designer and author Scott Ogden.
Riffing on stripes, a trio of 'Bright Edge' yuccas anchors a bed of come-and-go perennials, including daylily, plumbago, oxalis, 'Grapes' gomphrena, and pink Turk's cap.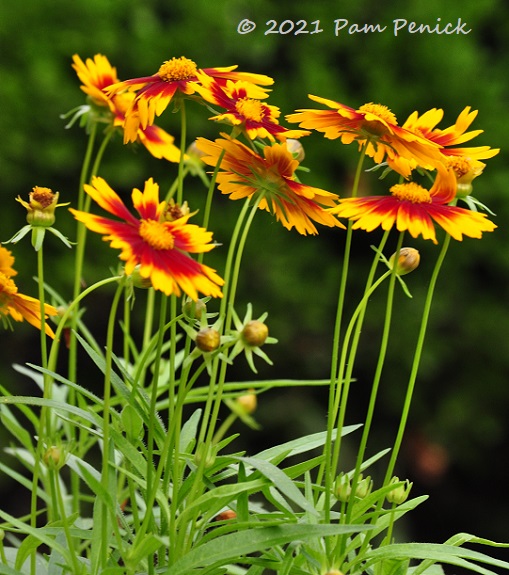 'Sterntaler' coreopsis grows here too. Is there any difference between 'Sterntaler' and UpTick, which I have in the side garden? I cannot tell them apart.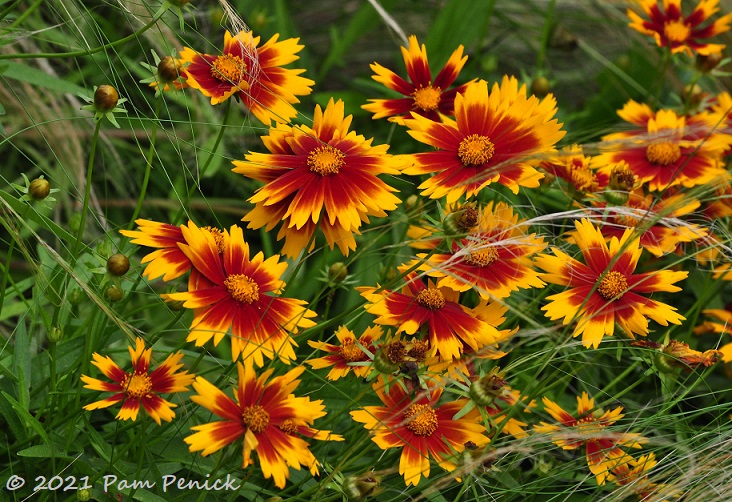 More 'Sterntaler'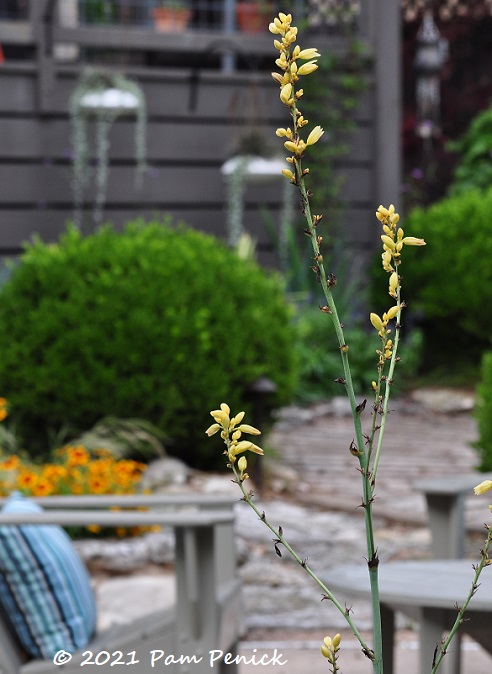 Yellow bloom spikes on the non-red yucca (Hesperaloe)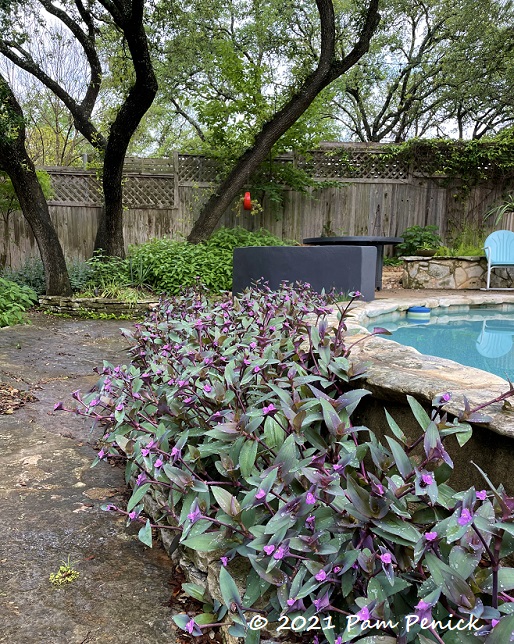 I was just telling a friend how I've battled for a decade to keep this patch of purple heart (Tradescantia pallida) in bounds. I love it, though, when it looks like this: a curving swath in a low bed behind the pool, its steely leaves harmonizing with the dark-gray seat wall.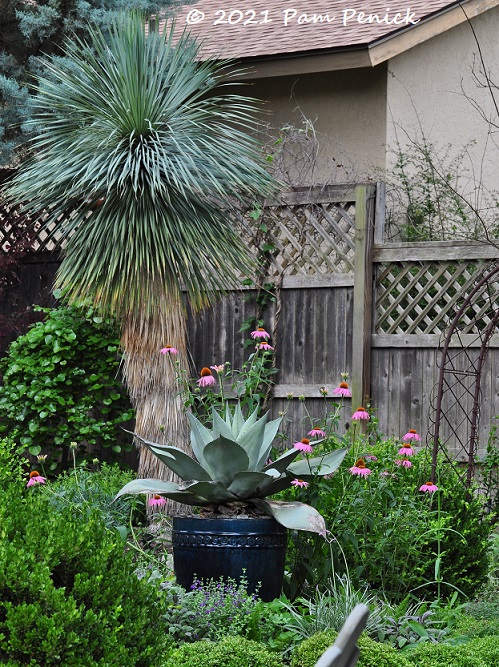 In the Circle Garden, a variegated whale's tongue agave is still in recovery mode after the freeze, which nearly froze its moonlight-yellow stripes clean off. I'm hopeful the beautiful coloring will come back. Purple coneflowers stretch above it. Even higher, a 'Sapphire Skies' Yucca rostrata looms in the background.
I needed a garden rake that was a little bit longer than the normal claw. Due to a knee replacement I sometimes had to sit and work in the garden since I cannot deal. The length is great for my purpose Best Garden Rake For Harvesting Potatoes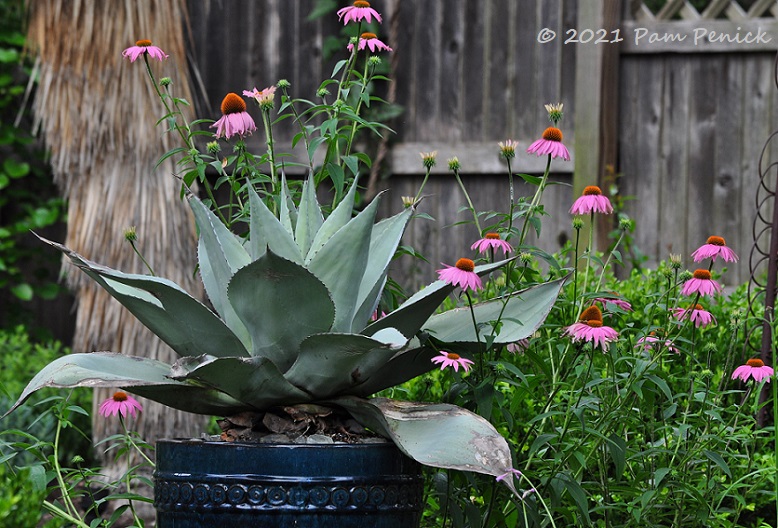 Whale's tongue agave with purple coneflowers (Echinacea purpurea) grown from seed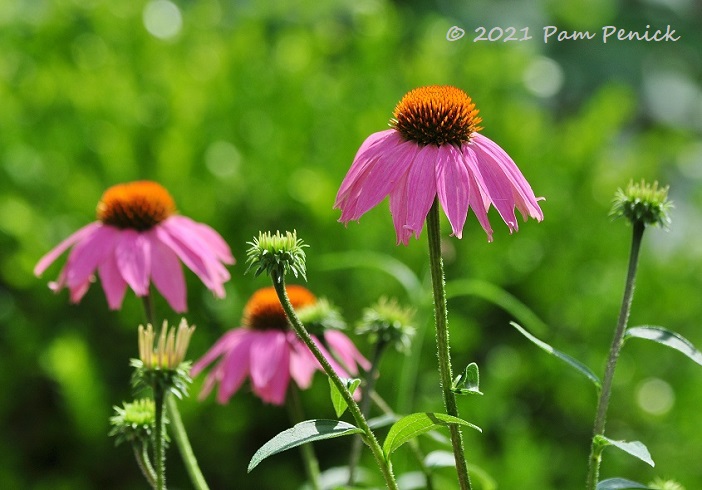 A pollinator favorite and a native Texas plant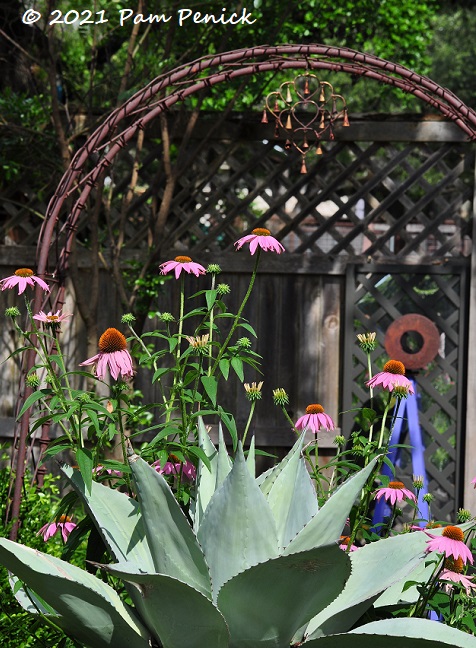 One more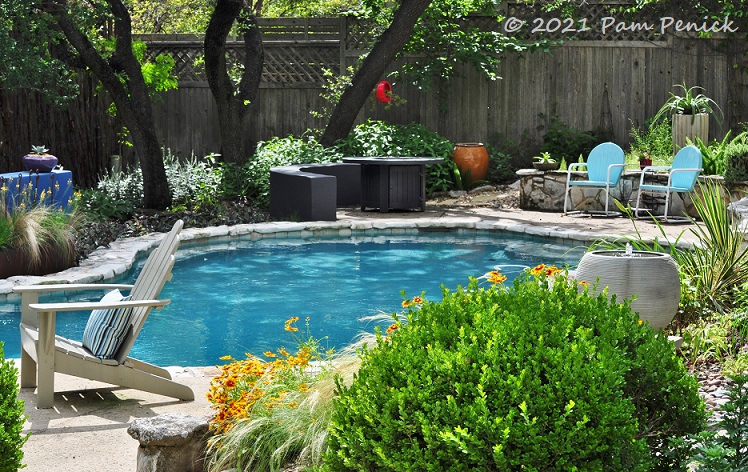 It's pool season, but we haven't been in it yet because of all the rain. With June upon us, though, it's just a matter of days until this will be the place to be.
I welcome your comments; please scroll to the end of this post to leave one. If you're reading this in a subscription email, click here to visit Digging and find the comment box at the end of each post.
_______________________
Digging Deeper: News and Upcoming Events
It's pond tour time! Grab your sun hat and attend Austin's 26th annual Pond and Garden Tour on June 5 and 6. Sponsored by the Austin Pond Society, the tour includes 13 ponds over two days, with admission of $20 in advance (until 5/31) and $25 on the day of (online payments only; no cash).
Want to learn how to grow vegetables in Central Texas? Attend a free webinar on June 15 hosted by the Travis County Master Gardeners Assoc. My friend Sheryl Williams is teaching it, and she says "We'll cover the whole process from planning to harvesting, with plenty of war stories from my own garden." Sign up here.
Join the mailing list for Garden Spark! Hungry to learn about garden design from the experts? I'm hosting a series of talks by inspiring garden designers, landscape architects, and authors a few times a year in Austin. (While in-person talks are currently on hiatus due to the pandemic, I hope to resume again this fall.) Talks are limited-attendance events that sell out quickly, so join the Garden Spark email list to be notified in advance. Simply click this link and ask to be added.
All material © 2021 by Pam Penick for Digging. Unauthorized reproduction prohibited.
The post Heart eyes for heartleaf skullcap and more appeared first on Digging.
Exactly what we needed. Looking forward to getting a few more sets soon! Online Pack Seed Starting Tray For Nursery Pots
Read more: penick.net
Based in Bridgeville. Dan Collins is a Senior Editor at Korean News Feeds. Previously he has worked for NPR and Bloomberg News. Dan is a graduate of Film Productions at the University of New York.